We are currently taking reservations for the 2020 season.
Welcome to Canada's Premiere Waterfowling Adventure! Thank you for showing interest in hunting with our team of professional guides and top-shelf callers.
My name is John Cristinziani and I am the founder and operator of Magnum Hunts, a well recognized hunting club located in South Eastern Ontario, Canada. Established since 1985, we are the longest operating outfitter in the province of Ontario specializing in Canada goose hunting. Our exclusive territory runs along the St-Lawrence River as we do most of our hunting between 2 Federal refuges which hold in excess of 20,000 local Canada geese and well over 100,000 birds during the peak migration period.
WHAT SETS US APART: Like any other professional guide would do for his clients, we scout persistently on a daily basis. But on the rare occasion where we cannot find a "hot" field for the next morning's hunt, we can always rely on the properties that we own or lease to save the day. We intensely manage several thousand acres of prime "goose real-estate" for the sole purpose of hunting. From barley, wheat, beans and hay fields in the early season to high protein corn during the late season, you will be positioned in the best possible location for a successful hunt.
Several man-made ponds have been created and much of the marsh land has been improved to promote waterfowl attraction especially for the nesting season.
We strictly hunt our properties on a rotation system therefore minimizing the pressure on our birds.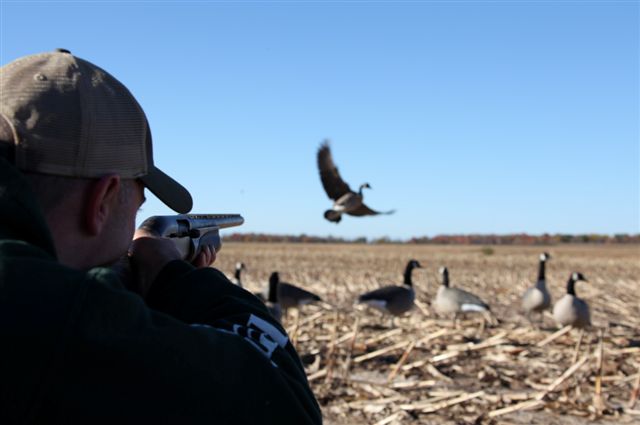 The adventure begins in early September and runs through into late December. Whether shooting mallards from a flooded field or decoying giant Honker's to the sounds of the calls, all aspects of your hunt are organized to provide you with the best possible experience.
Most of our hunters are repeat clients who have established personal friendships with us over the years. They come from all over the world as we have gained a reputation for exceeding expectations on every hunt. Some of the very best in the industry have hunted and filmed with us. Names such as Fred Zink, Field Hudnall, Tom Knapp, Shawn Stahl, Jose Boily, DestinationX etc…have all shared days in the field with us.
We only shoot decoying birds as most of our shots are inside of 30 yards. We like to shoot geese UP CLOSE as this eliminates the loss for cripples and provides for some top-quality gunning. Our unique area holds a very high volume of both local and migrating waterfowl therefore providing ample opportunities for a successful hunt.
Hunts are from sunrise to 11:00AM. We mostly field hunt and our equipment is consistently rated by sports writers as top notch and very up to date. This equipment is essential to insure the success of your hunt.
We normally host parties of four to five hunters (usually 4). As an option, if you come with less than 3 hunters, you may choose to be combined with other smaller groups of hunters to complete your party. This allows for more time spend in the field since limits can go rather quickly for the smaller groups. Larger size groups can be arranged by creating a customized package for you. A minimum of 1 guide (usually 2) will be assigned to your group.
NO OVERCROWDING - We only hunt 1-2 groups of clients/day, as this is the secret to our success!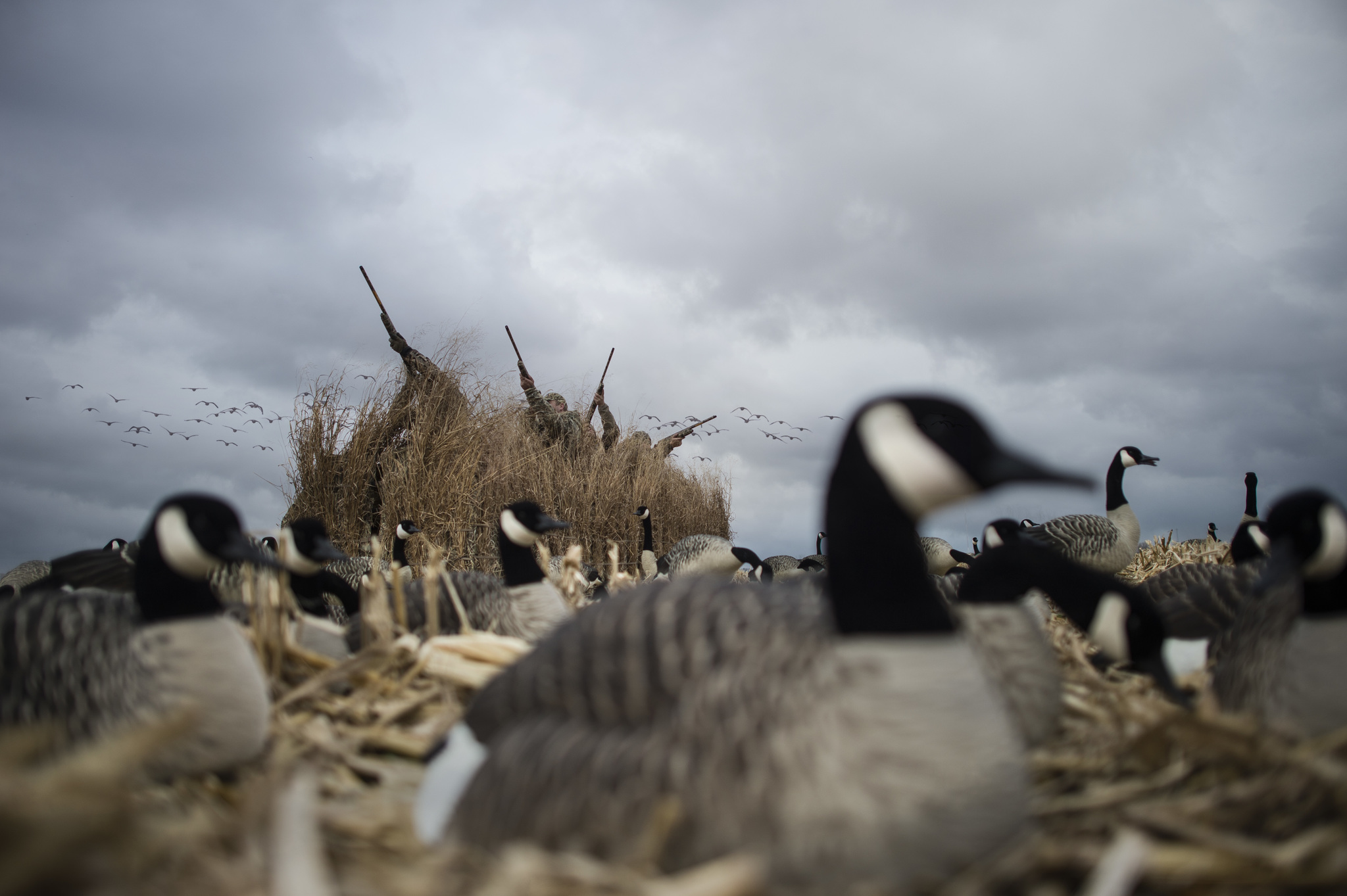 With Canada goose populations on the rise, the hunting at Magnum has been graded World-Class as we make every effort to offer you the Waterfowling Adventure of a lifetime.
Deposits are due 10 days following your reservation. Reservations are honored upon receipt of your 50% deposit; we will then forward a written confirmation. Your balance will be due 90 days prior to your hunt. To better serve you we accept Visa, Amex and MasterCard payment.
Due to the seasonal nature of our business, our refund policy must be limited. Fifty percent of your deposit will be refunded if cancellation is received in writing before 60 days prior to your scheduled hunt. Thereafter, deposits and final payments are non-refundable unless a replacement client is found. If you must cancel, we will make every reasonable effort to help you reschedule your hunt to an open date within the above mentioned time frame.
Not included: Gratuities for guides, Hunting Licenses, Bird Processing and applicable taxes. Hunters are required to take their birds back with them.
Note: effective since January 1, 2009 US Citizens need a valid passport to enter into Canada.
---
---

The hunt
Dates
2020 Goose Season Dates
The 2020 waterfowl season in our WMU65 area should run as follows:
Early season for Canada Geese – Sept. 5 - 15, 2020
Regular season for Canada Geese – Sept. 26 - Dec. 20, 2020
Spring season for Snow Geese – Mar. 1 - May 31, 2020
Return to The hunt index Home
License fees
The cost for the Ontario non-resident small-game permit is not included in the price of your hunt. It sells for approx. $130.00 CDN and is available on-line directly through the MNR:
https://www.ontario.ca/page/hunting-licence-fees-non-residents-ontario#section-0"
Hunting license (non-residents of Ontario)
Before you can hunt in Ontario, you'll need:
– a hunting version Outdoors Card and
– all required licenses, tags and/or seals for the game you wish to hunt
Renew an expired hunting-version Outdoors Card
Where you can buy non-resident hunting licenses – Licence issuers
– Participating ServiceOntario Centres
The following non-resident products are also available online :
– Outdoors Card renewal
– 1-year and 3-year small game licence tags
– spring wild turkey licence
*Non-resident kids under the age of 16 years old cannot purchase a license in the province of Ontario. (dropping the minimum supervised age to 12 years old is being proposed for 2020 by the Canadian Government)
You will also need a Federal Migratory permit (Canadian Wildlife Habitat Conservation Stamp) available on-line at: www.permis-permits.ec.gc.ca/en/PurchaseHuntingPermit"
The Migratory Game Bird Hunting Permit is now available online on the Government Canada website. Purchase and print your permit from the comfort of home.
Return to The hunt index Home
Bag Limits
Early Canada Goose season: 10 geese/day - No possession limit
Regular Canada Goose season:
3 geese/day - Sept. 26th – Oct. 31st
5 geese/day - Nov 1 - end of season
(possession limit 15)
Snow Geese: 20/day - No possession limit
Ducks: 6/day - 18 in possession
Return to The hunt index Home
Lodging
For hunters interested in lodging, the White Rock in Alexandria, ON has been looking after the needs of our clients for many years and is located only minutes away from us.
All rooms are equipped with: air conditioning, phones, cable TV, fridge, coffee makers, hair dryers and private bath. Enjoy close proximity to specialty shops, historical sites, museums, golf courses, a recreational park, miles of nature trails, Fly-in breakfast, and numerous others.
We invite you to visit their website www.whiterockmotel.ca for booking information. Be sure and tell the owner Tracey Davner that you are hunting with Magnum to benefit from an exceptional corporate rate. Dogs are welcomed here. There are several local restaurants in close proximity to the motel.
For those looking for more upscale lodging, you can stay in the Cornwall or Casselman area which is located approximately 25 minutes from Alexandria. Staying in Cornwall will make for a longer drive to meet with your guide in the mornings. Staying in Casselman will make for a shorter drive to meet your guide in the morning.
Return to The hunt index
Home
---
---

In the field
Blinds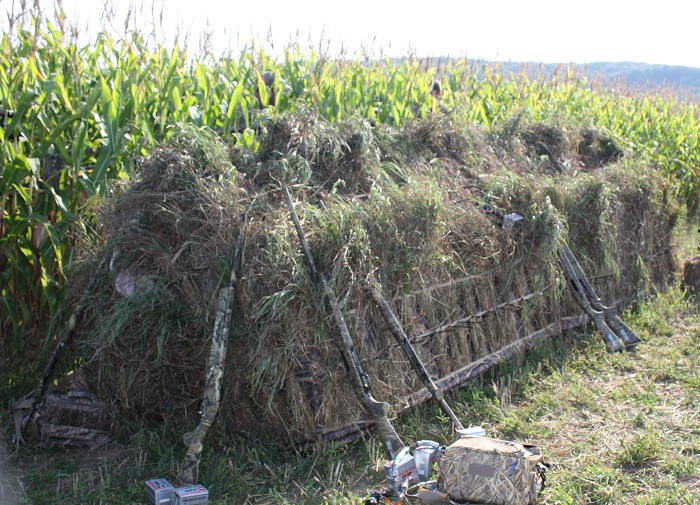 With over 20 stationary set-ups, our early season blinds are comprised of permanent hedge-row blinds, elaborate box blinds and fiberglass or steel pits. They are large, comfortable and safe enough to accommodate several hunters & guides. They shield you from the elements and hide you from the birds. They are also constructed so that hunters have a great view to watch the birds work as they circle and commit to the calls & decoys. These permanent blinds are strategically located in high traffic areas and hunted on a rotation system allowing for minimal pressure and consistent success. Guests are driven to within a short walking distance of our blinds, shortly before legal shooting hours. All blinds are accessible from dry land.
Later in the year when the corn and beans are harvested, we go MOBILE! If we absolutely have to, we turn to hunting with the ever popular laydown blinds. But any reputable outfitter/guide will tell you that in a very short time period, the geese have become extremely wary of those blinds. Those little "humps" that stick out amongst countless decoy spreads across the country have made geese much more challenging to hunt out of them. Most times and especially later during the season when dealing with pressured and educated birds, the geese will avoid them at all costs.
Due to a NEW state-of-the-art blind concept by Avian-X called the "A-Frame", we now have a secret weapon against the geese. The new blinds were tested thoroughly over the past few seasons on both early and late season Ducks, Canada Geese, Ducks and even on Snow Geese with unbelievable results. It's something new for the birds and the well camouflaged blinds don't seem to bother them at all as often decoy to them without any suspicion or hesitation. These blinds are awesome to hunt out of if you enjoy shooting geese Up Close as most of the shooting is done at point blank range while you are in a standing position to shoot with both feet on the ground. The A-Frame's weightless portability, low profile, natural appearance (allowing it to blend in perfectly with any environment) and excellent concealment abilities allows us to set up in the middle of vast harvested fields or using edge cover as a backdrop.
Safety and comfort are of the utmost importance for our hunters which are always positioned in the best possible location to ensure a phenomenal hunt.
The key to success...LOCATION, LOCATION, LOCATION! Be where the birds want to be.
Return to In the field index Home
Decoys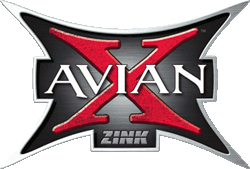 We only employ the most realistic, innovative & state of the art decoys ... AvianX decoys are all we use! Our large decoy spreads are transported through the use of our closed aluminum trailers. During the early season, we employ several dozen decoys but as the fall progresses, we add numbers to our spreads as we adjust to the geese flying in larger groups. These sizeable spreads are necessary for bringing in gun-shy birds that have been pressured throughout the season. We also use ATV's to haul our gear in and out of fields when the weather turns wet and nasty.
Return to In the field index Home


Guns & Ammo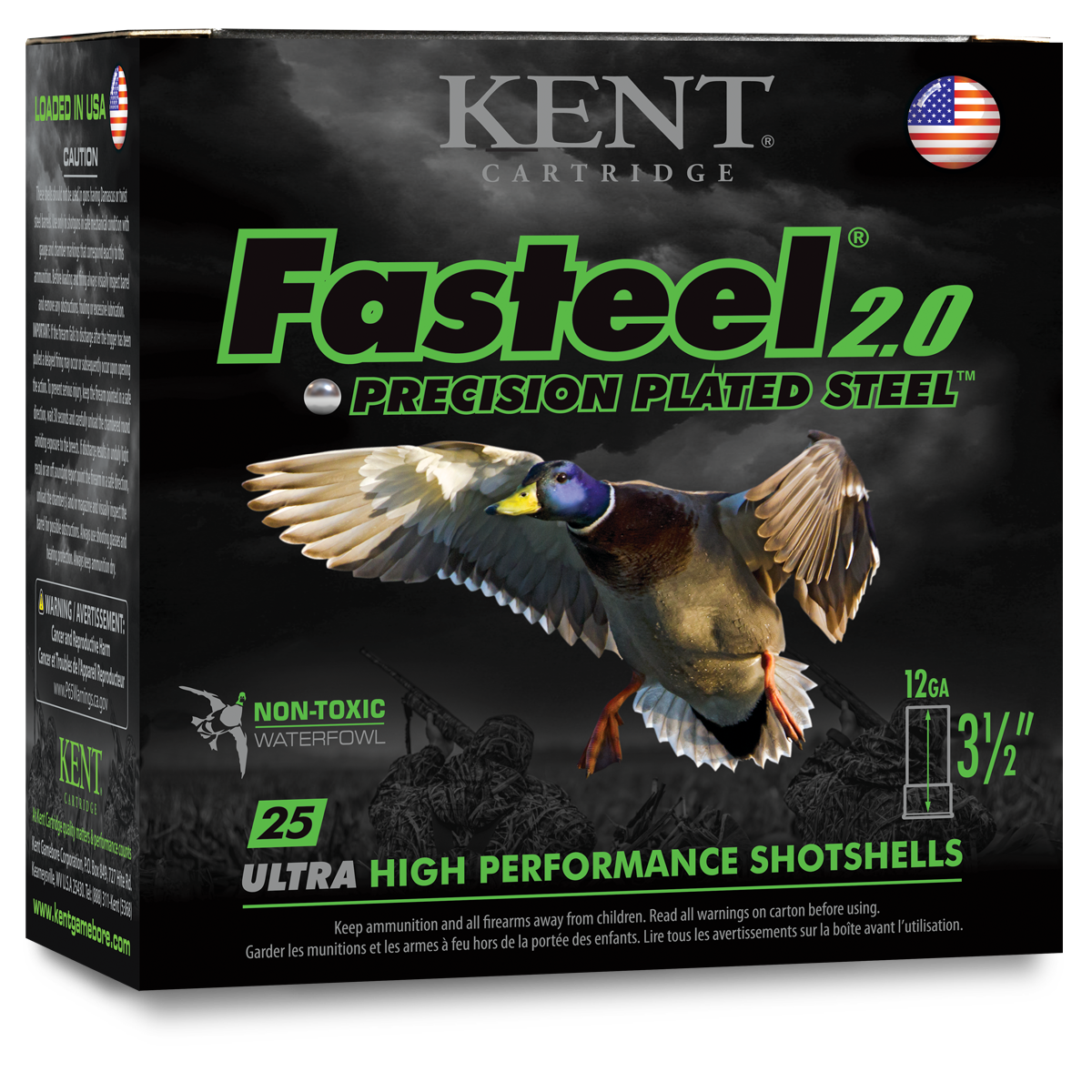 Non-toxic shot sizes in #2, BB and BBB are most adequate since our shooting is done at very close range. The advanced technology in recent Steel Shot developments has made this a deadly choice on waterfowl. It is illegal to shoot a larger shot size than BBB in Ontario. We suggest a fast shell in 1450 -1500 fps velocity. 50 shells per day are plenty. Steel shot Kent Faststeel 2.0 ammunition are available at our club. Although many of our clients hunt with 20 gauge guns, other gauge shot shells may be difficult to obtain in our area. When crossing the US border, Canada allows 100 rounds per hunter duty free.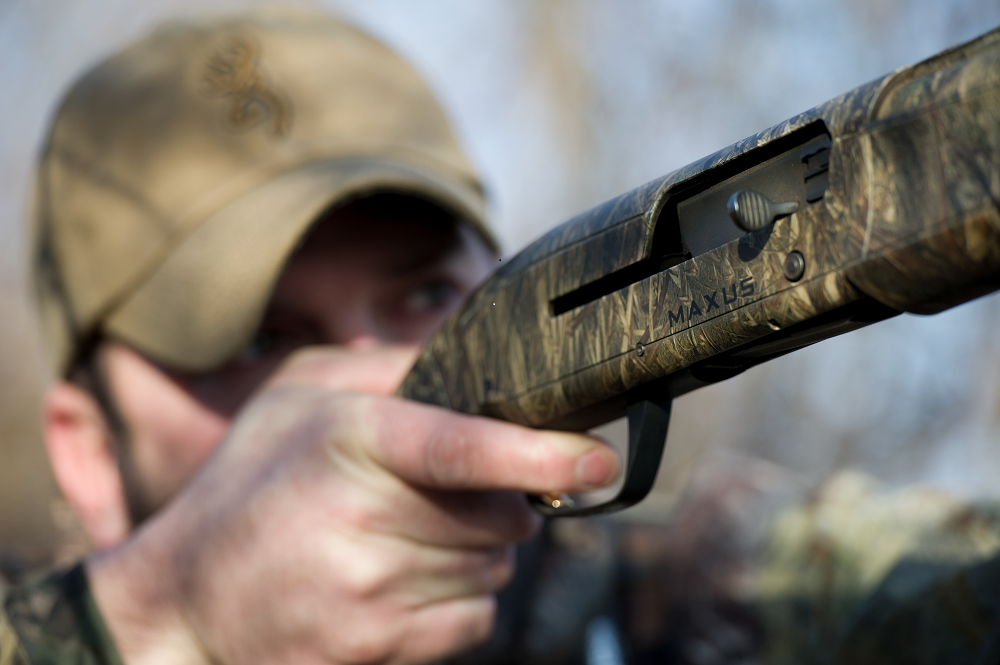 Your favorite 12 gauge shotgun is recommended. Open chokes are preferred in Improved Cylinder or Modified. Shooting is done at close ranges so shorter barrels in 26" or 28" provide for some fast gun handling. Guns must be plugged to 3 shell capacity. Our guides all use Patternmaster Code Black Duck chokes!
Return to In the field index Home
Clothing
Should consist of warm and waterproof bibs/pants, parkas, gloves and hat in your preferred camo pattern (we suggest Mossy Oak Shadow Blades). We also strongly recommend facemasks.
Your clothing should be layered since temperatures can vary from extreme heat to bone chilling conditions. Waders are not required but bring comfortable boots that are waterproof and warm.
Extra's can include your camera or camcorder, snacks and beverages, and a headlamp.
Additional information will be provided upon making your reservation.
Return to In the field index Home


---
---

Who we are
Team Magnum
Team Magnum's guides are compiled of a distinctive group of hard-working people that all share a common goal. That goal is to deliver World-Class Waterfowling as we have created decades of extraordinary memories for our valued customers. We are often told that our obsession for waterfowl and the outdoors is truly contagious. We have been building long-term relationships with our hunters for over 30 years and our team accounts for over 125 years worth of experience and knowledge in the hunting industry. We may come from various walks of life and different parts of Canada, but we all share an intimate enthusiasm to return to our waterfowl heaven at Magnum Hunts every fall. Here is who we are…
Team Magnum Hunts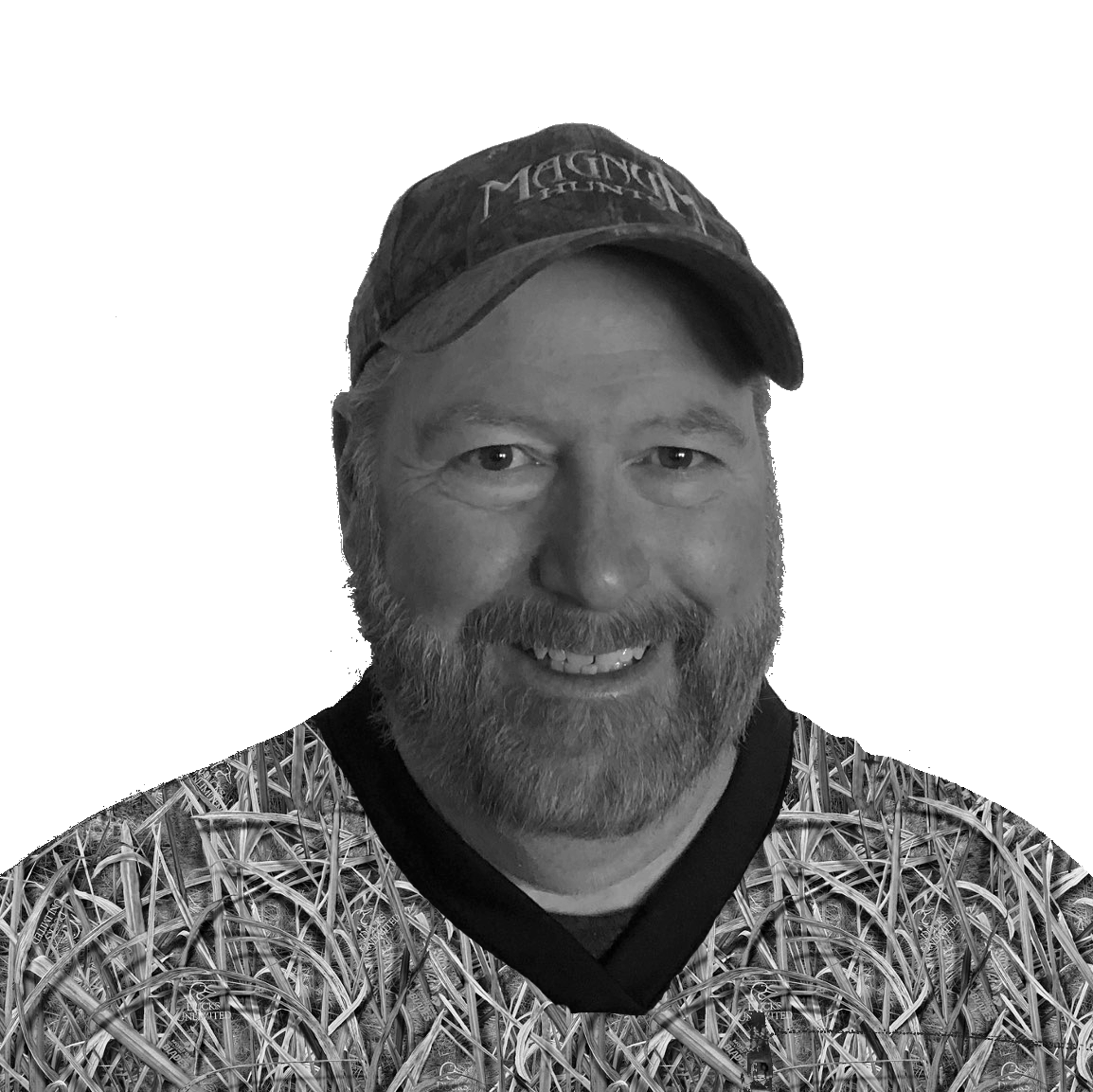 In the county of Norfolk, Ontario on the North shore of Lake Erie is where Gord has made his home.
Gord is our Head Guide and a Ship Captain by career with the MNRF for over 30 years. He works on the waters of Lake Erie protecting our valuable natural resources for future generations.
Married to Julie, he realizes how fortunate he is to have such an understanding wife with a family of 4 to care for: Brittni, Maighan, Haylee and Jordon now all grown up with their own families. Gord is now a grandfather of 3!
His Waterfowling addiction began as a young boy in the marshes, rivers, lakes and fields of the infamous Jack Miner Bird Sanctuary in Kingsville, Ontario where he often hunted with his father and friends. Special memories of hunting with his Dad still brings a smile to his face! Gordon considers himself quite lucky having complied an incredible collection of Miner bands over the years.
Gordon spends a lot of time in the field from early September right through until late February. He professionally guides & hunts the grain fields of Northern Ontario and has often followed the migration all the way to the flooded rice fields and timber of the southern states.
Return to About us index Home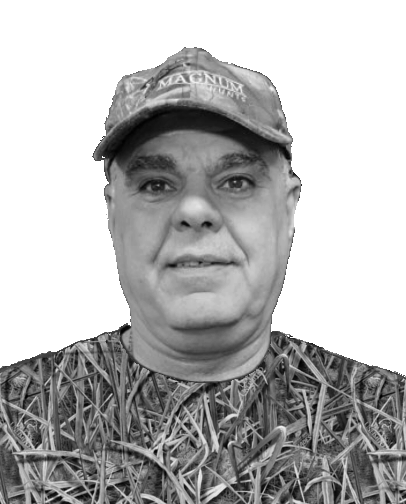 Joe is the father of 2 beautiful girls and married to Line who misses him dearly whenever he's away hunting. He's been with us from the very beginning. Joe too is already a grandfather, how time fly's!
A full-time landscaper by trade, you may recognize him as a Professional decoy carver. His passion and talent as an artist have won him countless awards for his craftsmanship on the International circuit. Joe is an eleven-time winner of the Quebec Decorative Decoy Championships. He has been recognized as "Artist of the Year" and holds numerous "Best of Show" titles at the Canadian National Carving Competition and at the Worlds Competition in the USA. Joe's goal is to become a World Champion Decoy Carver! We have no doubt that he will achieve this dream in the near future.
A veteran waterfowl hunter, Joe has been hunting since the age of 12 having been introduced to the sport by his father. He began as a duck hunter coasting the backwaters of the St-Lawrence River in Quebec with his duck boat and eventually became fanatical about the sport hunting with friends & family. He has since moved on to hunting Big Honkers.
He's also been involved as a committee member with Ducks Unlimited for over 30 years and has recently joined QDMA Canada as a volunteer.
Return to About us index Home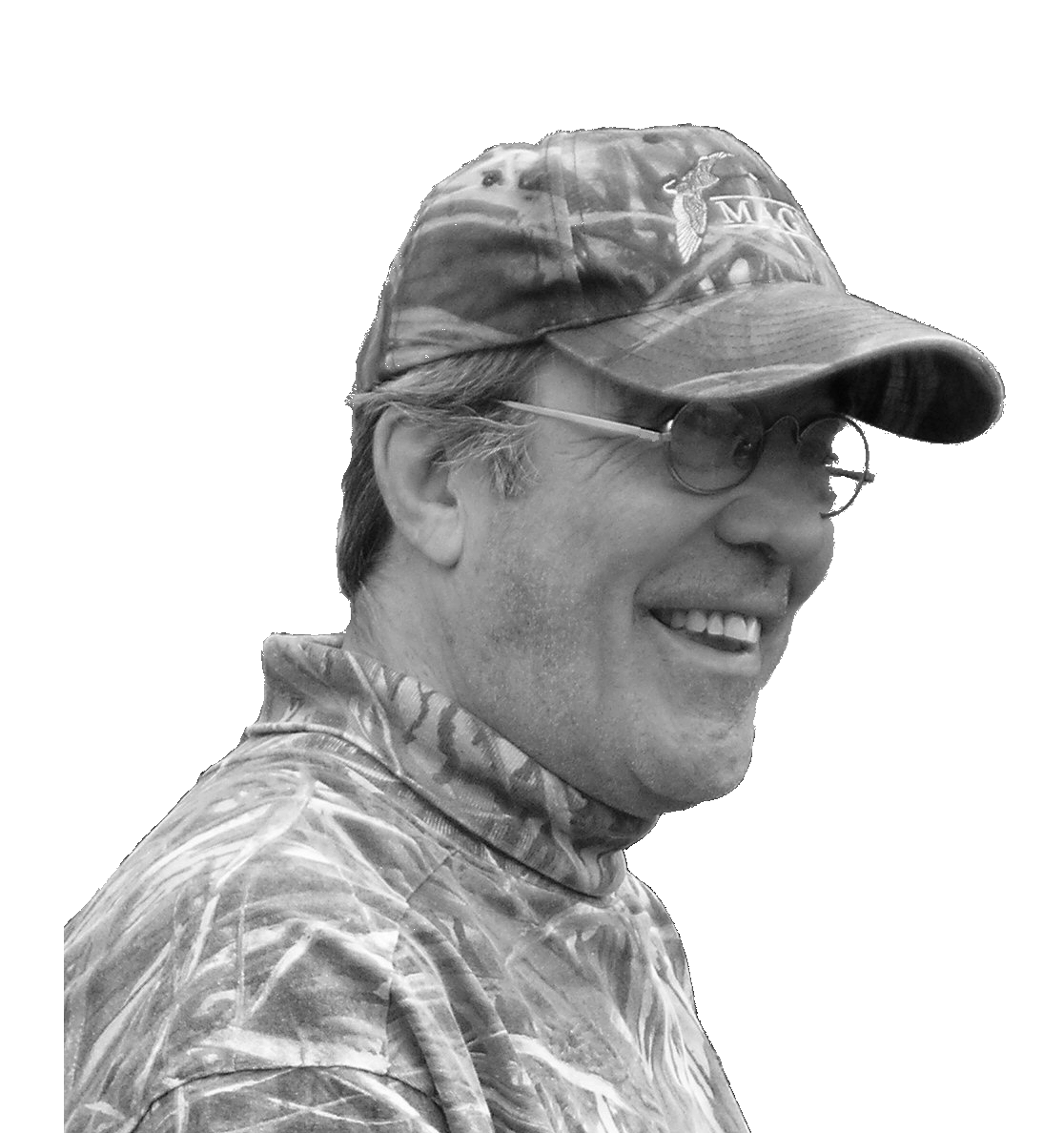 Our most experienced guide is "Dead Eye" Landry. Roland's been hunting waterfowl for over 60 years! Married to wife Maureen, Roland is father to Kelly and has 2 wonderful grandchildren.
An electrician by profession, he is currently enjoying his retirement with us. He joined Magnum back in 1985 and has been our most devoted team member.
Roland is a long-time guide for whitetail deer in his native home of New Brunswick, Canada. Our very own "Mike Holmes", Roland assists us in insuring that all of our equipment and gear are fine-tuned and ready to go for every hunt.
Roland spends a little less time with us in the field these days but has become our "scouting captain" continuously finding hot fields for our hunts. He spends countless hours with preparations for our clients during the off season. "He still loses sleep over all of this and acts like a child before going hunting", says his Maureen.
You want to hear about hunting in the "good old days" Roland can certainly entertain.
Return to About us index Home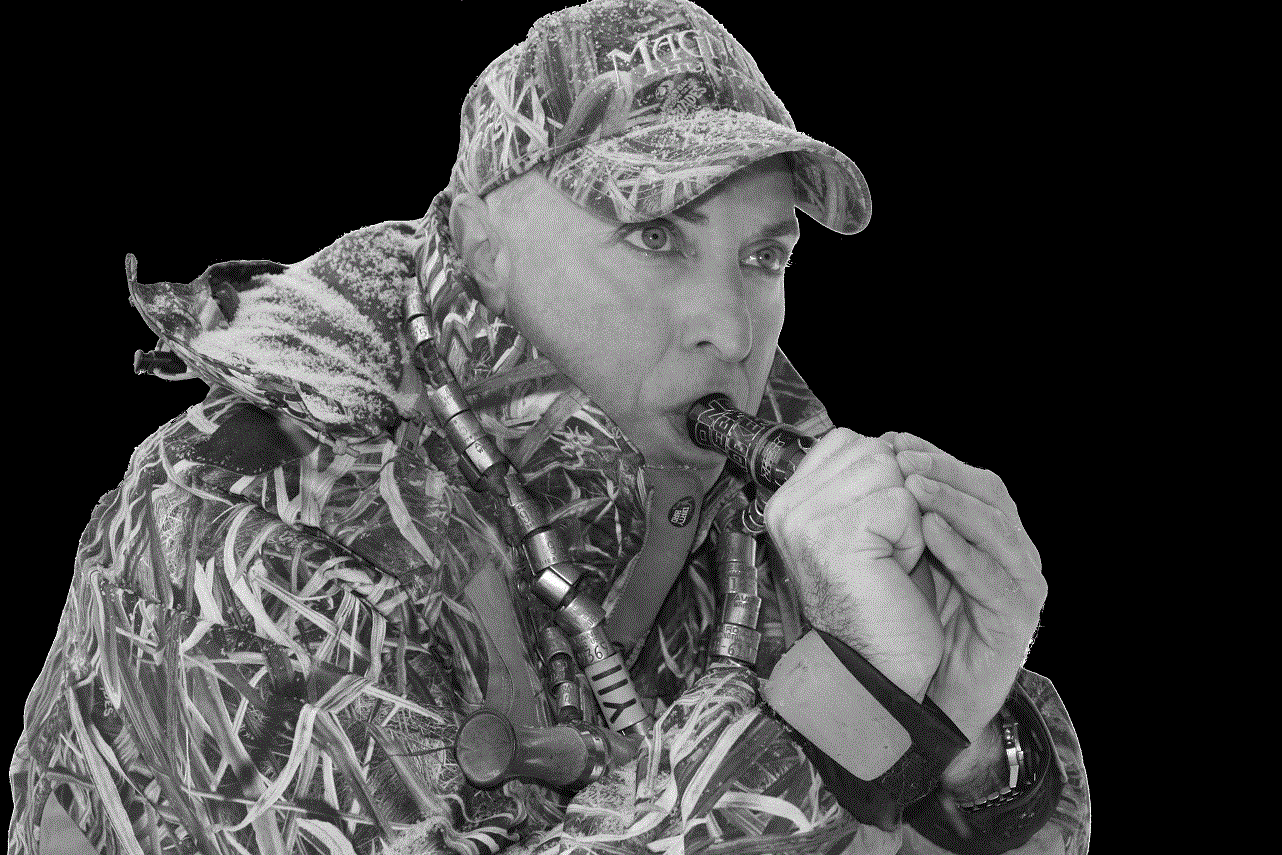 Founder, owner and operator of Magnum Hunts, master guide John Cristinziani has become one of the more recognized waterfowl guides in the country.
John has grown up with an addictive obsession about anything related to waterfowl! First introduced to the sport by his father as a young boy, he enjoyed hunting for small game and waterfowl and wild boar in Italy. John has repeatedly travelled to several of the Southern states as well as to Western and Eastern Canada in pursuit of Waterfowl and Big Game.
A member of the Zink Calls Z-Unit, he holds the title of Central Canadian Goose Calling Champion along with many top finishes on the sanctioned calling circuit.
Always prepared to "get it done", John is a successful entrepreneur who always looks forward to a new challenge. His business endeavors have brought his knowledge and tact to build one of the most successful goose hunting operations in Eastern Canada.
Dealing with a mostly corporate clientele, expectations need to be exceeded on each and every hunt. John ensures that no expense is spared when it comes to the quality of his equipment and the comfort of his hunters and that no detail has been over looked.
John can still be found presenting seminars and calling clinics at many of the fine industry related events. He is also the Waterfowl columnist for Quebec's Aventure Chasse Peche Magazine. John has appeared on several of the Zink Calls 24/7 DVD's sharing exciting footage and hunting experiences with the viewers. He was also a member of the DestinationX series of DVDs and continues to appear on several industry related TV Shows such as Avian-X TV, QVO and Canada in the Rough to name a few.
A strong advocate for conservation, he is a lifetime member of Ducks Unlimited having been Chair for the Montreal Chapter of DU for more than 20 years. John was also elected on the Canadian Board for QDMA Canada several years ago and continues to promote the organization at every level. Several of the properties that he owns and leases are enlisted in a variety of governmental conservation projects or managed for wildlife and hunting.
Return to About us index Home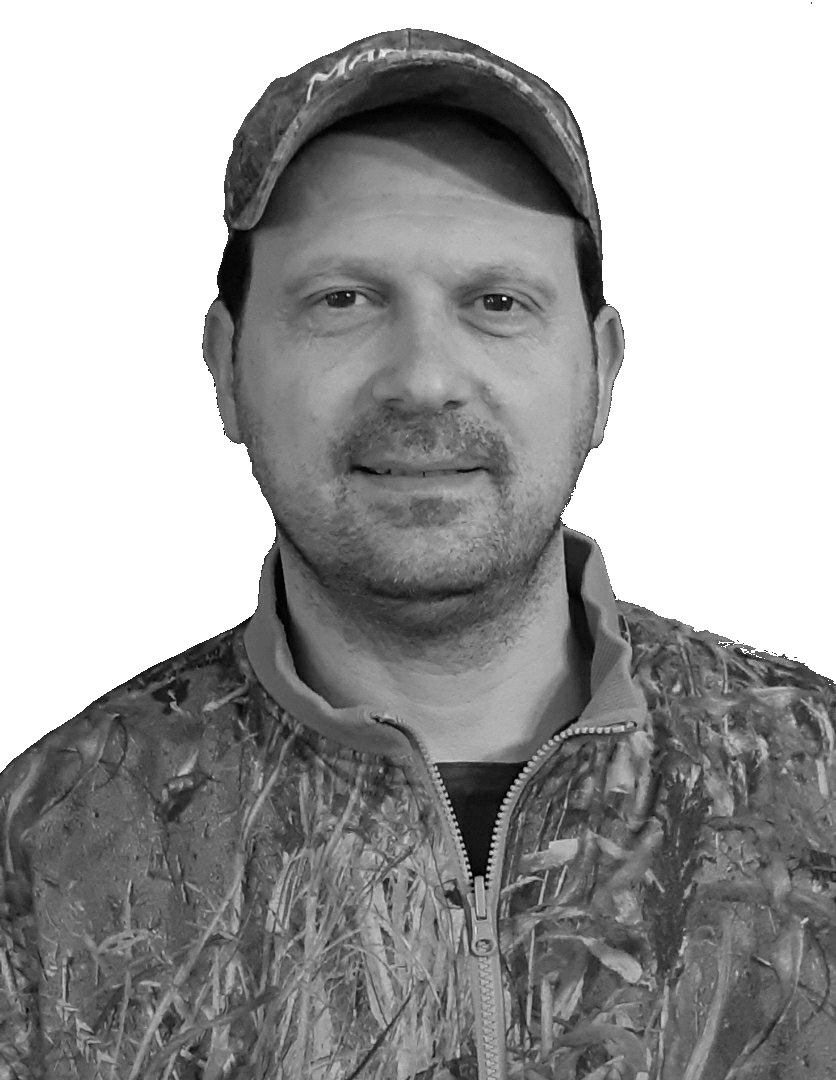 George has been a dedicated guide for us at Magnum for over 20 years. Born and raised in Montreal, he is a plumber by trade. His better half Adele is also very understanding as she becomes a waterfowl widow each fall.
An accomplished caller with several top finishes on the circuit, George's easy-going personality and excellent calling skills make him a valuable asset to our operation. A student of the sport, he is always strategizing and finding ways to improve our gear and equipment to make us more successful in the field. He enjoys observing the birds throughout the off season. He enjoys chasing ducks in his duck boat during his free time every fall.
George has also been involved with Ducks Unlimited as a committee volunteer for several years. This guy lives for goose hunting 24/7!
Keep an eye on those bands whenever George is around!
Return to About us index Home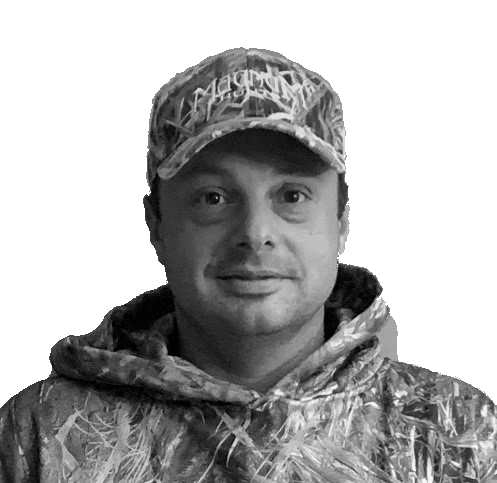 The newest member to join the team is Brian Boisvert. Brian started as a customer and fit into the team very quickly as his passion for Waterfowling is contagious.
A native of Ontario, Brian is happily married to Carrie and a dedicated family man with 3 grown children. A successful entrepreneur by trade in the service industry, he fully comprehends customer service and satisfaction.
Brian has been guiding for over 10 years. An aggressive caller, he is an extremely patient and meticulous hunter who pays much attention to detail. Geese beware when he's out in the field!
He truly enjoys chasing turkeys in the spring and casting a line during the hot summer. During his spare time, Brian shoots regularly at his club.
You can look forward to sharing his knowledge and expertise in the field. His positive, outgoing and often comical approach to life combined with his commitment, ability and love for the sport has allowed guiding to come as second nature.
Media
Canada in the Rough - October Snow Storm
Zink Calls Band Hunters 2: The Breaking Point Quebec Goose Hunt
Testimonials
John, the fact that we are still talking about the great time we had speaks volumes on its own.

You did not disappoint and we were thrilled with many aspects of your operation! First and foremost we felt very welcomed. Second was everyone's concern for safety and conservation. Third was concern for your client's enjoyment which was backed by your obvious deep knowledge and experience - from blind set up, proven fields/locations from which to hunt from, decoy selection and placement, to your championship calling credentials and ongoing assistance during the day. While we did not expect to repeatedly achieve our limits, we did so on all three excursions!

There is a saying: "people don't care what you know until they know that you care". You and your team definitely care! It was all a great experience and one we look forward to again next fall.

What started out as a thought based on a TV episode morphed into a great experience for all involved and a commitment to return again year after year.
Most sincerely,
Audrey Tupper
Ottawa, Ontario. Canada
Return to About us index Home
---
My work leads me to select the very best hunting and fishing locations for the production of our videos and television shows. For the most part, there are many guide and outfitter services which are here today and gone tomorrow. No nonsense or poor excuses; when it comes to goose hunting, the choice is always by far with Magnum Hunts. Thanks to his experience and hunting savvy, founder and operator John Cristinziani consistently puts us on birds and allows us to acquire the top quality footage we are known for. Calling is second to none and the equipment they use is always top-notch and the very best the industry has to offer
José Boily
Host of QVO and Remington in Camp TV
Return to About us index Home
---
Each time I have joined John and his friendly staff for a Goose hunt my experience has been most satisfying. It's a lot of fun to be afield with guides who are knowledgeable and professional and who do their very best to make the hunting experience safe and exciting.

Congratulations on your efforts to please us and I look forward to the hunts we have booked with you for next autumn.
Stephen Ashton
ARCTIC ADVENTURES
Return to About us index Home
---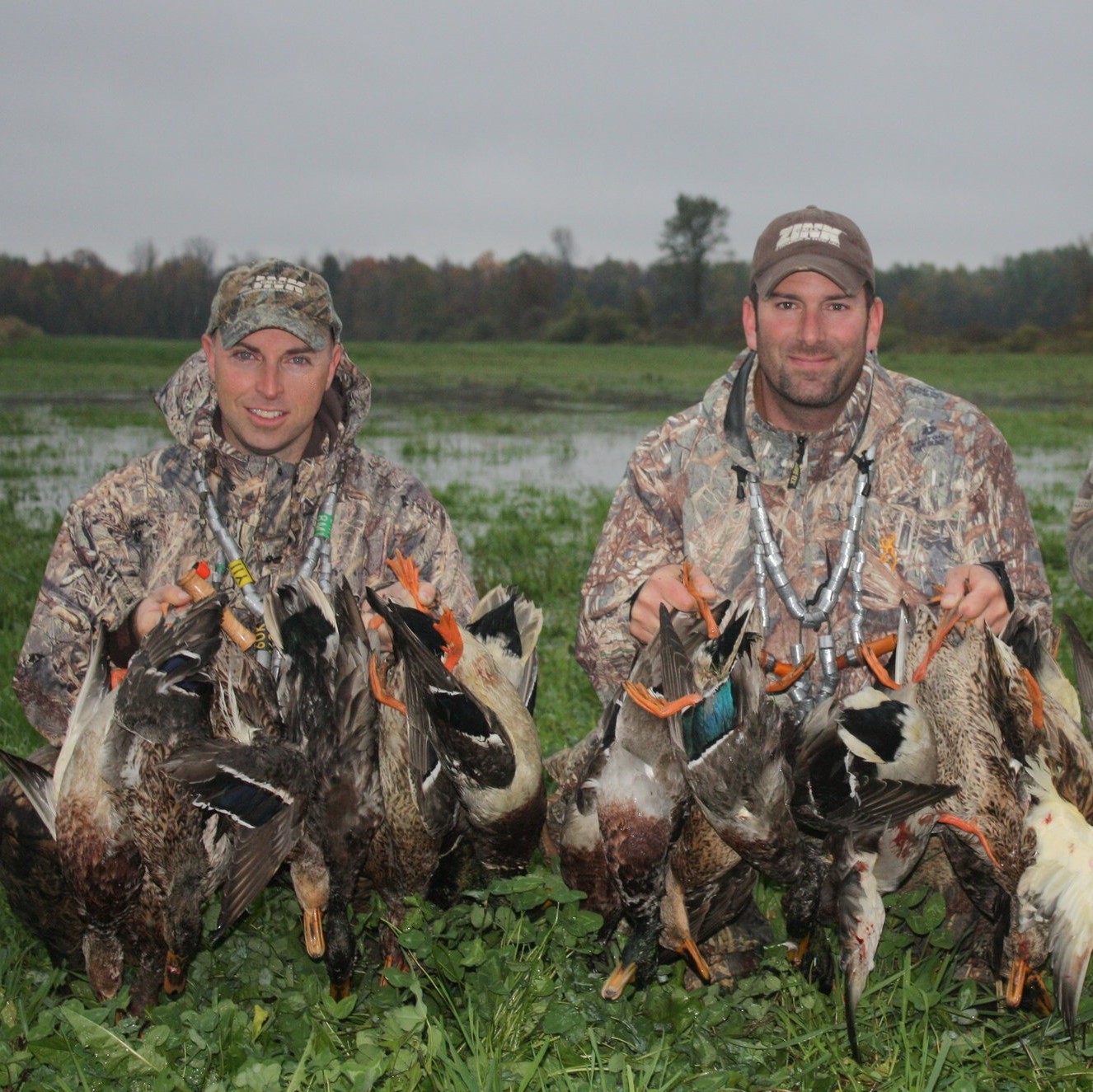 "In all my years of traveling and hunting Canada geese across North America, I've never seen a larger concentration of big geese in my life. There were literally tens of thousands of honkers in the immediate area, and Magnum's local knowledge, set-ups, and top-shelf equipment helped seal the deal time and time again. Hunting with these folks was truly the hunt of a lifetime. Simply put, I've never enjoyed better hunting for big geese anywhere."
Fred Zink
ZINK CALLS
Return to About us index Home
---
"John and his Team Magnum Boys put on an unforgettable experience every time! Magnum is Comfortable, Economical, and Productive. Their professionalism shines even when the weather is bad! If you want a hunt that other hunters wish for, experience a day with Magnum Hunts!"
Tom Knapp
BENELLI'S EXHIBITION SHOOTER
BENELLI'S AMERICAN BIRDHUNTER TV
10/18/2007
Return to About us index Home
---
"John and his crew go beyond what you would expect. They are true professionals and they have goose hunting down to an art. The memories of his hunts will not be forgotten any time soon! Can't wait for next time..."
Nick Manioudakis
Sales Manager
STOEGER CANADA
Return to About us index Home
---
"Il n'a pas de mots pour décrire l'excitation grandissante en entendant les bernaches répondre aux appels d'invitations de nos guides, de les entendre approcher et claquer des ailes juste au-dessus de nos têtes de très proches et encore plus lorsqu'elles se posent juste devant nous. Merci à John et à l'équipe de Magnum pour des expériences inoubliables!"
Dr. Céline Lavallée
DMV
BUREAU VÉTÉRINAIRE CONCORDE
Return to About us index Home
---
"John, thank you for yesterday what a great day, good shooting, good friends and what an amazing finale! Hearing the geese and seeing so many flying overhead, just over the blinds, birds walking between the blinds and on the ground in front of us ... such a memorable vision practically beyond words. It is incredible to realize that you pulled all these geese in and orchestrated the show - totally awesome! Thank you for creating such a pageant and such a thrill - the picture will stay with me forever. With Fresh Tracks - - - -Best Regards, Janey"
Janey Giroux
Return to About us index Home
---
"Team Magnum...you guys brought new meaning to the world of goose hunting for me. Every hunt truly is a memorable experience. My favourite moments are watching the hundreds of birds circle over us, what a show. Keep up the great work."
Mike Panzera Jr
President
PANZERA CONSTRUCTION INC.
Return to About us index Home
---
"Magnum Hunts offers some of the finest waterfowling ever encountered in North America. When you book a hunt you can be sure that everything from the hospitality to field set-ups will produce a Magnum Good Time."
Shawn Stahl
2000 WORLD GOOSE CALLING CHAMPION
PRODUCER OF FOWL PURSUIT VIDEOS
Return to About us index Home
---
"Quelle chasse extraordinaire que ce 15 octobre, avec le soleil, les outardes, et la très bonne compagnie de John et ses guides. Tous mes invités étaient ravis d'expérimenter une chasse différente, tirer les outardes à une hauteur logique avec de très beaux coups de fusil, et un spectacle magique que nous ne sommes pas prêt d'oublier. Merci John, de nous avoir procuré ce grand plaisir."
Didier Farré
Président
ZENITH THEATRE
Return to About us index Home
---
"It is always with great enthusiasm and boyish ferver that I look ahead to a goose hunt with my good friend John. Your passion and devotion to waterfowl hunting and it's conservation is absolutely contagious, never in my life have I met someone who has perfected to "speak" the CANADA GOOSE language and have you enjoy a day's hunt like you can. CAN'T WAIT FOR OUR NEXT HUNT!"
Rudy Venditelli
President
DANTE INC.
Return to About us index Home
---
"I hunted three days with Magnum. John and his guides conducted themselves in an extremely professional manner. They are very friendly, accommodating, and helpful. They gave me a feeling that I was just another hunting partner in the field, rather than a client. Their ability to locate, and call geese is remarkable. On the three days I hunted, we rarely shot geese beyond 15 yards! This is a testament for the hard work and attention to detail that Magnum strives for."
Ken B. Mongeon
ASIC + Cores Test Engineer
IBM MICROELECTRONICS, VT.
Return to About us index Home
---
"John, hunting with your crew was one of the most impressive and enjoyable hunting experiences that I have ever had. My group averaged one goose per minute on that glorious morning. There is no doubt in my mind that your calling was mostly responsible. The three of you sounded like a symphony! Thank you so much for an incredible experience! I look forward to seeing you again this year."
Kirk Elliott
Sales Director Canada
KENT CARTRIDGE
Return to About us index Home
---
"I had heard many good things about Cristinziani and his crew, when I finally got the opportunity to go... WELL!!! Simply SPECTACULAR and nothing less. The most beautiful show and control of birds that I have ever seen - as for the hunt, UNFORGETTABLE." These guys really know their stuff!
Paolo Maltoni
Vice-President
LES ATELIERS STONE AGE
Return to About us index Home
---
"Pour chasser l'outarde au champ, il faut bien maîtriser l'appel et savoir disposer les appelants selon les circonstances, deux conditions que John Cristinziani et ses guides remplissent à merveille. Il faut admettre qu'avec une vingtaine d'années d'expérience et une bonne douzaine de titres provinciaux de "call" à l'outarde, ces gens-là connaissent le tabac."
Jean Stéphane Groulx
Rédacteur en chef
LE MAGAZINE SENTIER CHASSE-PÊCHE
Return to About us index Home
---
"What an astounding hunt, the geese kept coming in on a string! I have never hunted a grass field with such success, do you think the calling had anything to do with it! They were right there in our faces every time we came up to pull the trigger you guys really know what the birds want to hear even on bright sunny bluebird days. Thanks for an unforgettable experience, can't wait until next time!"
Michel Oligny
Director of Customer Service, Canada USA
AIR FRANCE
Return to About us index Home
---
"John thanks for an awesome experience! What a show! Even though I came equipped with a camera and not a shotgun, I truly enjoyed seeing the birds come to the decoys time and time again. They were so close and that made the shooting for the rest of the ladies in the blind so much easier. I can't wait for next years hunt to have my hunting license so I can try and help out with the harvest. Hearing all the post hunt comments, everyone had a wonderful time as the experience turned out to be all that was expected and much more."
Julie Gauthier
Call Center Director
STANDARD LIFE
Return to About us index Home
---
"I have hunted waterfowl across Canada and parts of the United States and I could never imagine that Canada Geese could respond so well to a call and be shot at such close range. You did one terrific job in calling, and I was highly impressed by it all."
Anton Sagh
National Sales Director - Canada
CHURCH & DWIGHT CO. INC.
Return to About us index Home
---
"I was impressed by your total package, but the icing on the cake was witnessing your ability to call geese! I really got a kick of seeing you and your guide call to a flock of birds that circled the spread twice only to light in an adjacent field. Your guide stopped calling but you kept at it and within minutes, the entire flock lifted and came right into our decoys - imagine that. The show was unbelievable and the shooting awesome. The picture of that hunt hangs in my den, every time I look at it, it reminds me of the wonderful time we had. Thanks for everything John."
Jim Cole
CEO
BELL MOBILITY
Return to About us index Home
---
"Mon premier matin de chasse chez Magnum j'ai tiré sur plus d'outardes que dans mes 15 dernières années de chasse. Tout simplement incroyable, jamais auparavant j'aurais cru pouvoir tirer sur des outardes à moins de 50 pieds quel « feeling » incroyable."
Bernard Fiset
Président
PREMIERE MOISSON
Return to About us index Home
---
"For years I've hunted Canada geese with John and I hope to continue with him for many years to come! Every year I hunt in 3 or 4 different provinces, so I've seen and met many outfitters in my life. Hence I can attest that John is an outstanding guide and a very good hunting companion.

John can call geese like no other. He literally talks to the geese, makes them turn to the decoys, works them around like puppets until they are in the best position for the shooters. Then and only then is he satisfied! In short, John and his team go out of their way to make your hunt a success, but more importantly making it a wonderful experience.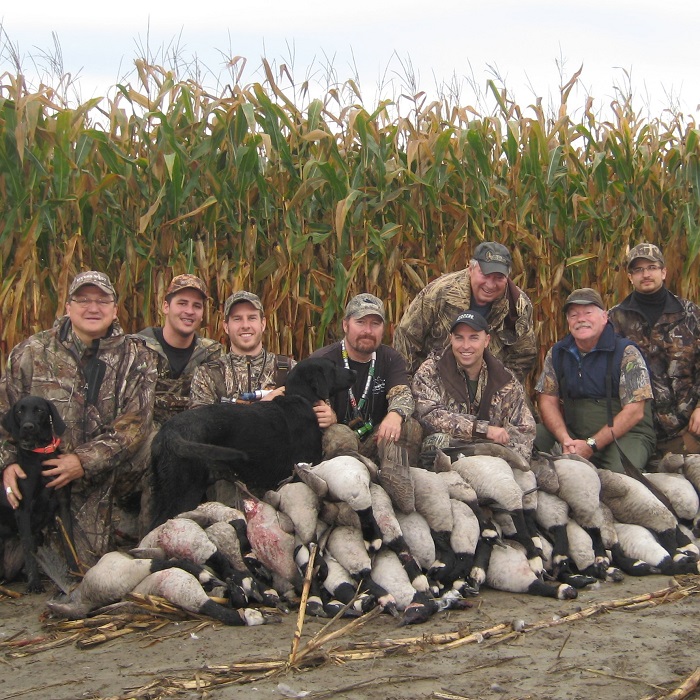 You always enjoy a good time with the Magnum boys, that's what keeps you coming back for more!

John runs a professional organisation, he uses the best equipment that money can buy and is caring with his clients.

Over the years John became more than simply a guide, John became a friend that I am always looking forward to seeing and chatting with

Thanks for all the great memories!"
Me Guy Mc Kenzie
Deputy Minister
CANADA ECONOMIC DEVELOPPEMENT FOR QUEBEC REGIONS
Return to About us index Home
---
---

FAQ
What is the hunting party size?
Our guides normally host parties of four or five hunters (usually four). If you want to bring a larger party, we can accommodate that. If you come with less than four hunters, you may have the option to join other hunters to make up a larger hunting party and prolong your day in the field.
Return to FAQ index Home
How many guides are assigned to our party?
You will most often have 2 guides looking after your group. This provides for a second caller which is often needed to support our large decoy spreads.
Return to FAQ index Home
Can we bring our retrievers?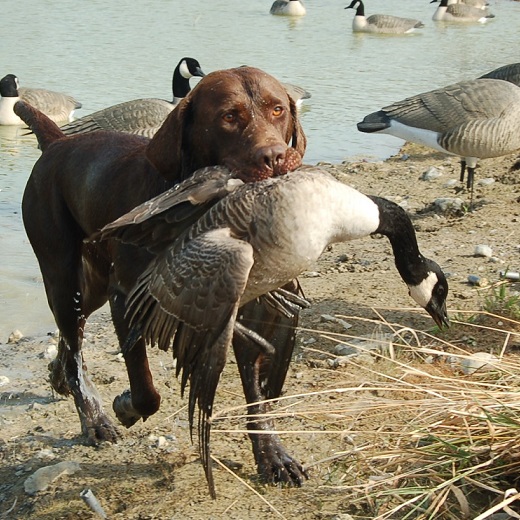 Outstanding retrievers enhance hunting enjoyment and are always welcomed. If you have a well trained retriever which will stay motionless while birds are dropping into the decoys and the hunters are shooting, we will be happy to have it do the retrieving for your party.
Return to FAQ index Home
How do I bring my gun into Canada?
It is very easy to bring your gun into Canada. There is a $50.00 fee and you can download the forms here:

http://www.rcmp-grc.gc.ca/cfp-pcaf/form-formulaire/index-eng.htm#f6

RCMP 5589 / CAFC 909
Non-Resident Firearms Declaration

RCMP 5590 / CAFC 910
Non-Resident Firearm Declaration Continuation Sheet

Return to FAQ index Home
What is your deposit and cancellation policy?
Deposits are due 10 days following your reservation. Reservations are honored upon receipt of your 50% deposit; we will then forward a written confirmation for your dates. Your balance is due 90 days prior to your hunt. Due to the seasonal nature of our business, our refund policy must be limited. Fifty percent of deposit will be refunded if cancellation is received in writing before 60 days prior to your scheduled hunt. Thereafter, deposits and final payment are non-refundable unless a replacement client is found. If you must cancel, we will make every reasonable effort to help you reschedule your hunt to an open date.
Return to FAQ index Home
What is Not included in your package?
Gratuities for guides and staff, air and ground transportation to our hunting location, hunting licenses, applicable taxes, bird processing.
Return to FAQ index Home
What is the customary practice with harvested birds?
Your birds can be taken home as this is the most common practice. Hunters must take birds back with them.
Return to FAQ index Home
---
---

Memories
Our greatest pleasure comes from the smiling faces after a successful hunt.
2021
2020
2019
2018
2017
2016
2015
2014
2013
2012
2011
Over the years
---
---

Contact us
For questions or to reserve:

Magnum Hunts
10310, Gouin
Montreal, Quebec, Canada
H1C 1B1

Email: john@magnummarketing.net

Phone: (514) 881-2080
---
---